Gandys Flip Flops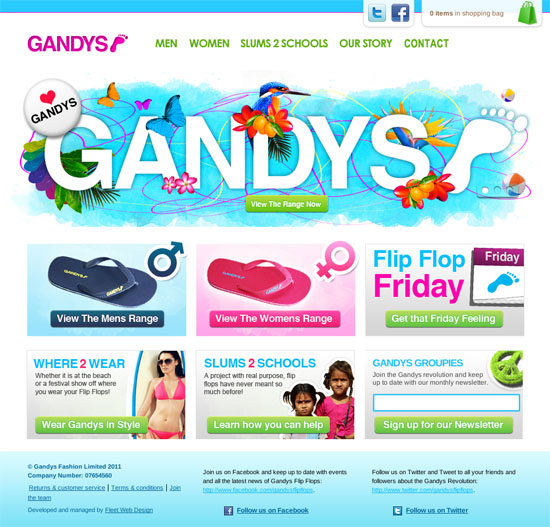 Web Design & Development
The Gandys Flip Flop brand emerged in 2011 with the founders wanting a vibrant and original online presence. An external designer was brought in for the job to make sure the site really stood out amongst the competition.
Bespoke E-Commerce Platform
The founders wanted to be able to sell their new products online, in addition to targetting boutiques and high street shops.
Fleet Web Design were commissioned by Gandys Flip Flops to develop a bespoke shopping experience, integrated into the entire website, allowing products to be added to the basket from literally any page, rather than a set "catalogue" approach.
Payments were made possible by integrating with PayPal.
Managed Hosting
For a website of this calibre, the user experience is key, and there can be no chance of the website going down. Our 24/7 monitoring and maintenance took care of that.
The founders also took advantage of 24/7 support to answer questions and make small changes to the site at a moments notice.
Visit Demo Site
Another Project